2021 was also marked by the economic impact of the Corona pandemic. The number of new passenger car registrations was significantly lower than the pre-pandemic level in 2019. However, there were significant increases in the area of electric vehicles, and Switzerland's 13.3 percent share of electric vehicles puts it in the front field of the top 10 in Europe.
Slumps in supply chains, shortages of electronic components and raw materials in vehicle production, and international transport restrictions had a major impact on the automotive industry last year. At the end of the year, however, demand for passenger cars was on the rise again, and electric vehicles in particular made strong gains in market share. The downward trend for gasoline and diesel vehicles can be clearly seen.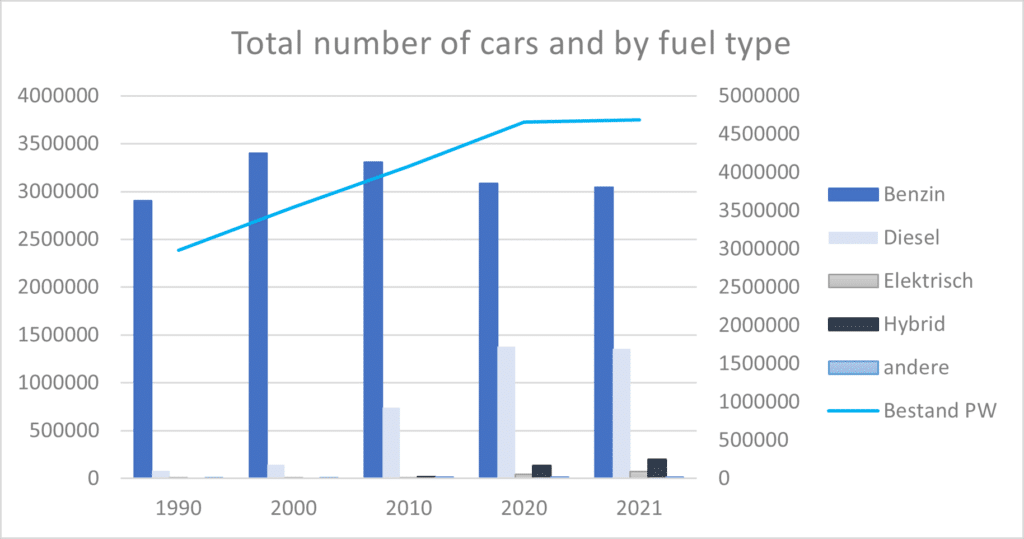 Driven by new regulatory targets in the European Union and the United States aiming for an electric share of at least 50 percent by 2030, and an earlier ban on internal combustion engines in many countries, the market development of alternative drive systems has turned around noticeably. Vehicle manufacturers and importers have favored electric vehicles in production and delivery since the chip crisis began. This is now reflected in the sales figures.
EV posts record figures
In Switzerland and Liechtenstein, a record market share of 44.5% was achieved for electric vehicles, with the strongest year-on-year growth of over 60% each for battery electric vehicles and hybrid vehicles. Plug-in hybrids were able to increase their market share by just under 50% compared to 2020.
The Tesla Model 3 still tops the list of the top 15 battery electric vehicles. In 2021, many manufacturers launched numerous new models, which promptly entered the top 15, displacing earlier popular models such as the Nissan Leaf. In addition, new brands such as Polestar or the US electric car developer Rivian were able to make a name for themselves in the commercial vehicle segment.
The electric model range and the number of manufacturers are continuously increasing. By 2025, more than 330 models have been announced by manufacturers, including numerous new pure electric vehicles (BEV), fuel cell vehicles (FCEV), natural gas or biogas vehicles (NGV) and plug-in hybrid vehicles (PHEV). In the case of BEVs, the manufacturers of the brands that already have a strong presence are planning to expand their offerings even further.
Sources: BFE, auto schweiz, electro suisse